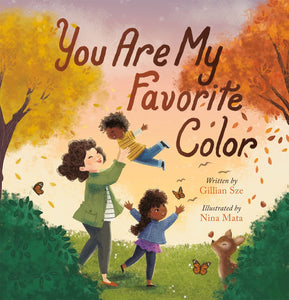 You Are My Favorite Color by Gillian Sze
OVERVIEW
A lyrical story of parental love that celebrates and takes pride in the many shades of brown skin. Perfect for fans of I Am Enough, Hey Black Child, Hair Love, and Our Skin.

When you ask me why your skin is brown,
I will tell you that you are my favorite color.
I will say that your skin was decided long, long ago.
Time was just waiting for you.

So begins a mother's celebration of her children's brown skin, told through warm and vivid poetry. With sweeping descriptions of what brown skin means—it is the brawny bear whose paws know the ground of its home, the sequoia tree that reaches up and touches the sun, the glossy shell of roasted chestnuts—this is a book that empowers as it embraces, and that reminds young readers that they have shades of color that only they can discover and express.

With beautiful, lyrical text by powerhouse poet Gillian Sze and vibrant, engaging art by illustrator Nina Mata, the #1 New York Times bestselling illustrator of LeBron James's I Promise, this is more than a story of love—it is a song that rings out for brown kids everywhere.

PRODUCT INFO
Publisher ‏ : ‎

Philomel Books (June 7, 2022)

Language ‏ : ‎

English

Hardcover ‏ : ‎

32 pages

ISBN-10 ‏ : ‎

0593203100

ISBN-13 ‏ : ‎

978-0593203101

Reading age ‏ : ‎

4 - 8 years

Grade level ‏ : ‎

Preschool - 3

Item Weight ‏ : ‎

10.5 ounces

Dimensions ‏ : ‎

8.63 x 0.34 x 8.81 inches