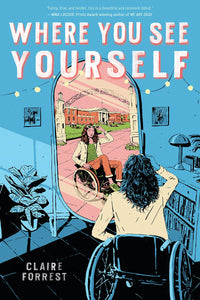 Where You See Yourself by Claire Forrest
OVERVIEW
Where You See Yourself combines an unforgettable coming-of-age tale and a swoon-worthy romance in this story about a girl who's determined to follow her dreams.
By the time Effie Galanos starts her senior year, it feels like she's already been thinking about college applications for an eternity―after all, finding a college that will be the perfect fit and be accessible enough for Effie to navigate in her wheelchair presents a ton of considerations that her friends don't have to worry about.
What Effie hasn't told anyone is that she already knows exactly what school she has her heart set on: a college in NYC with a major in Mass Media & Society that will set her up perfectly for her dream job in digital media. She's never been to New York, but paging through the brochure, she can picture the person she'll be there, far from the Minneapolis neighborhood where she's lived her entire life. When she finds out that Wilder (her longtime crush) is applying there too, it seems like one more sign from the universe that it's the right place for her.
But it turns out that the universe is full of surprises. As Effie navigates her way through a year of admissions visits, senior class traditions, internal and external ableism, and a lot of firsts--and lasts--she starts to learn that sometimes growing up means being open to a world of possibilities you never even dreamed of. And maybe being more than just friends with Wilder is one of those dreams...
PRODUCT INFO
Publisher ‏ : ‎

Scholastic Press (May 2, 2023)

Language ‏ : ‎

English

Hardcover ‏ : ‎

320 pages

ISBN-10 ‏ : ‎

1338813838

ISBN-13 ‏ : ‎

978-1338813838

Reading age ‏ : ‎

12 years and up

Grade level ‏ : ‎

7 - 9

Item Weight ‏ : ‎

14.4 ounces

Dimensions ‏ : ‎

5.75 x 1 x 8.5 inches