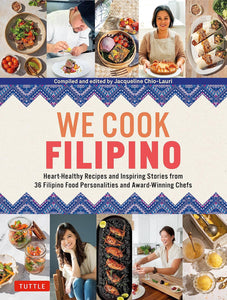 We Cook Filipino by Jacqueline Chio-Lauri
OVERVIEW
Kumain ka na? (Have you eaten yet?) is the greeting used by Filipinos whenever they meet.

A beautiful compendium of food and people, the 51 delicious recipes in this book are not just "from the heart"--they are also "good for the heart"--specifically included for their health benefits. The result is a cookbook presenting food as something central to Filipino culture and emotional well-being as well as being nutritious and amazingly tasty!

Along with insightful stories and 51 different recipes, readers will learn many tips and techniques to balance flavor and heart-health in your dishes, such as:

How to use Filipino cooking methods to achieve bold flavors without adding extra sodium or sugars to your diet

Preparing ingredients to retain the maximum amount of heart-healthy nutrients

Managing your sodium intake while still using salt to heighten flavor

Using heart-healthy tricks--like how to increase nutrient density and reduce the caloric value of a cup of white rice

Quick methods brewing flavorful broths, whipping up no-fry crispy treats, and so much more!

From rice and morning meals, to packed lunches, nibbles, soups, salads and so much more, you can learn how to make:

Silog: Sinangag at Itlog

(Cauliflower Fried Rice with Sunny Side-Up Egg)

Vegan Bicol Express

(Spicy Squash and Jackfruit Stew in Coconut Milk)

Pancit Zucchini

(Stir-Fried Zoodles)

Ginataang Alimasag

(Coconut-Stewed Crab with Squash, Tofu and Moringa)

Turon aka Lumpiang

(Banana Rolls)

And so much more!
The extraordinary food culture of the Philippines is presented in stories and recipes from 36 culinary trailblazers, award-winning chefs, food writers and social media stars from around the globe--from James Beard Award winners and nominees to chef-owners and more. They share with us not just their favorite recipes for classic Philippine dishes like adobo, sinigang and ginataan, but also their personal family stories about what Filipino food and food culture mean to them.
PRODUCT INFO
Publisher ‏ : ‎

Tuttle Publishing (October 24, 2023)

Language ‏ : ‎

English

Hardcover ‏ : ‎

176 pages

ISBN-10 ‏ : ‎

0804854661

ISBN-13 ‏ : ‎

978-0804854665

Item Weight ‏ : ‎

1.69 pounds

Dimensions ‏ : ‎

7.5 x 0.8 x 10.1 inches