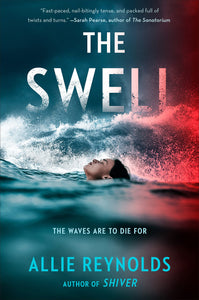 The Swell by Allie Reynolds
OVERVIEW
Point Break meets And Then There Were None in a pulse-pounding beach read that explores the dangerous ties between a group of elite surfers who are determined to find the perfect waves at any cost…even murder.

The waves are to die for.

Three years ago, passionate surfer Kenna Ward lost her two great loves—after her boyfriend drowned, she hung up her surfboard and swore off the water for good. But she is drawn back to the beach when her best friend, Mikki, announces her sudden engagement to a man Kenna has never met—a member of a tight-knit group of surfers. Kenna travels to a remote Australian beach, entering a dangerous world far from civilization where the waves, weather, and tides are all that matter. Kenna is tempted back into the surf, and drawn into the dazzling group and the beach they call their own.

But this coastal paradise has a dark side, and members of the group begin to go missing. Kenna realizes that in order to protect Mikki and learn more about the surfers, she must become one of them…without becoming one of their victims. What follows is an adrenaline-fueled thriller packed with twists and turns, exploring the dangerous edge between passion and obsession.
PRODUCT INFO
Publisher ‏ : ‎

G.P. Putnam's Sons; First Edition (July 19, 2022)

Language ‏ : ‎

English

Hardcover ‏ : ‎

368 pages

ISBN-10 ‏ : ‎

0593187873

ISBN-13 ‏ : ‎

978-0593187876

Item Weight ‏ : ‎

1.25 pounds

Dimensions ‏ : ‎

6.3 x 1.22 x 9.34 inches