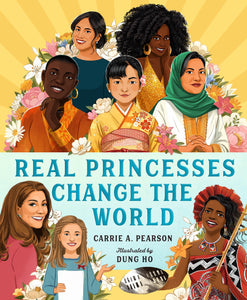 Real Princesses Change the World by Carrie A. Pearson
OVERVIEW
Real Princesses Change the World is an inspirational and diverse picture book profiling 11 contemporary real-life princesses and 4 heirs apparent from all around the world.

There are so many ideas of what princesses are: Princesses are sweet, beautiful, and gracious. Princesses wear poofy dresses and strut about their castle. Princesses are just missing a handsome prince. But what message does that send to the children who look up to them?

This picture book compiles biographies of 11 different princesses, highlighting who they truly are: diplomats, engineers, activists, athletes, and so much more. It focuses on their achievements and contributions, situating them as active members in the global and local community. From Nigeria to Japan, Saudi Arabia to Sweden, and Thailand to Tonga. This picture book takes readers on a trip that spans the whole world.

With stunning portraits done by bestselling illustrator Dung Ho (Eyes that Kiss in the Corners), Carrie A. Pearson's Real Princesses Change the World showcases princesses in an empowering, feminist light that is both accessible and engaging for young readers.
PRODUCT INFO
Publisher ‏ : ‎

Roaring Brook Press (April 11, 2023)

Language ‏ : ‎

English

Hardcover ‏ : ‎

40 pages

ISBN-10 ‏ : ‎

1250751438

ISBN-13 ‏ : ‎

978-1250751430

Reading age ‏ : ‎

4 - 8 years

Grade level ‏ : ‎

1 - 2

Item Weight ‏ : ‎

1 pounds

Dimensions ‏ : ‎

9.45 x 0.4 x 11.35 inches