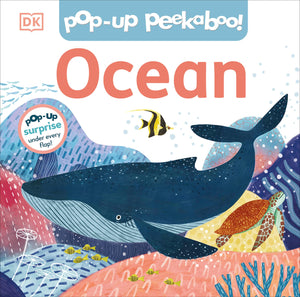 Pop-Up Peekaboo! Ocean by DK
OVERVIEW
An interactive pop up book that inspires hands-on learning with the help of some incredible ocean habitats! Tactile elements and delightful imagery will encourage the development of motor skills and early learning.

Bold, brightly colored pictures, lift-the-flap pages and entertaining rhymes. Pop up Peekaboo: Ocean provides lots of opportunities for parent-and-child interaction and hours of underwater exploration. Journey through the ocean and discover different habitats teeming with life. 

Babies and toddlers will love lifting the big flaps to find five peekaboo surprises pop up from the pages: a tiny turtle living in a seagrass meadow, three friendly clownfish in a colourful coral reef, a sleek otter diving for sea urchins in a kelp forest, a jellyfish glowing in the depths of the open ocean, and a huge Humpback whale and her calf leaping from frozen waters. Vocabulary about habitats and animal life are carefully woven throughout the book, making this book a fun and easy introduction to the topic of the Earth's precious underwater habitats. 

Inside the pages of this pop-up adventure book, you'll find:


Hands-on play that builds confident book skills

Look-and-find peekaboo games that reward curiosity

Rhythmic, read-aloud text that aids language development

Rounded edges and chunky pages, protecting babys and their growing teeth!

This interactive toddler book for 2 year olds helps teach young children object permanence, which is an important step in childhood development. Turning the pages and moving the pop-ups help toddlers learn motor control for improved dexterity.
PRODUCT INFO
Publisher ‏ : ‎

DK Children (August 23, 2022)

Language ‏ : ‎

English

Board book ‏ : ‎

12 pages

ISBN-10 ‏ : ‎

0744056748

ISBN-13 ‏ : ‎

978-0744056747

Reading age ‏ : ‎

1 - 3 years

Item Weight ‏ : ‎

1.05 pounds

Dimensions ‏ : ‎

8.63 x 0.98 x 8.56 inches