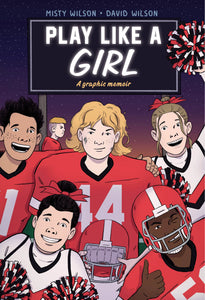 Play Like a Girl by Misty Wilson
OVERVIEW
Debut author Misty Wilson chronicles her seventh-grade experience as the only girl on her town's football team in this empowering graphic memoir about teamwork, friendship, crushes, and touchdowns.
Mistynever shies away from a challenge, on or off the field. So when the boys tell her she can't play football, there's only one thing to do: join their team and show them what she's got.
But the training is rougher than she thought—and so are the other guys, who aren't thrilled about having a girl on their team.
Middle school isn't so easy, either. Misty wants to fit in with the popular kids, but they think a girl playing football is "weird." Even her best friend doesn't get it.
Can Misty find a way to score points with her teammates, make new friends, and show everyone—including herself—what it means to play like a girl?
PRODUCT INFO
Publisher ‏ : ‎

Balzer + Bray (September 27, 2022)

Language ‏ : ‎

English

Paperback ‏ : ‎

272 pages

ISBN-10 ‏ : ‎

0063064685

ISBN-13 ‏ : ‎

978-0063064683

Reading age ‏ : ‎

8 - 12 years

Grade level ‏ : ‎

3 - 7

Item Weight ‏ : ‎

1.14 pounds

Dimensions ‏ : ‎

5.5 x 1 x 8 inches