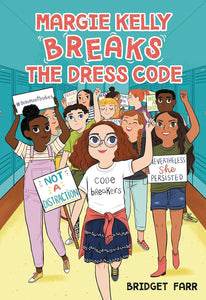 Margie Kelly Breaks the Dress Code by Bridget Farr
OVERVIEW
A timely and necessary novel about one girl's fight against gender inequality at her middle school and the lessons she learns along the way from rising author Bridget Farr—now in paperback!

Margie Kelly's perfect skirt was dress-coded on her very first day of middle school. Upset and embarrassed, Margie spends the whole day in oversized gym shorts, setting the tone for the whole day. Everything that could go wrong, certainly does!
 

But when Margie realizes that the dress code is only applied to the girls and not the boys, she gets mad. Really mad. The dress code is keeping girls from learning. The boys act like they rule the school. And the teachers turn a blind eye. Something has to change! And then Margie comes up with the best idea. She'll plan a school-wide protest.


As Margie moves forward with her plans, she comes to realize that her own privilege is part of the problem, and not everyone's voices are being heard. Will Margie make meaningful change for all students?
PRODUCT INFO
Publisher ‏ : ‎

Little, Brown Books for Young Readers (July 26, 2022)

Language ‏ : ‎

English

Paperback ‏ : ‎

320 pages

ISBN-10 ‏ : ‎

031646158X

ISBN-13 ‏ : ‎

978-0316461580

Reading age ‏ : ‎

8 - 12 years

Grade level ‏ : ‎

3 - 7

Item Weight ‏ : ‎

15.8 ounces

Dimensions ‏ : ‎

5.25 x 1.05 x 7.7 inches