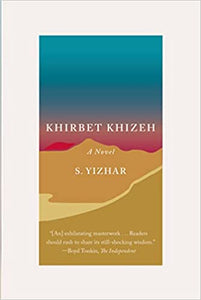 Khirbet Khizeh by S. Yizhar
OVERVIEW
It's 1948 and the Arab villagers of Khirbet Khizeh are about to be violently expelled from their homes. A young Israeli soldier who is on duty that day finds himself battling on two fronts: with the villagers and, ultimately, with his own conscience.

Published just months after the founding of the state of Israel and the end of the 1948 war, the novella Khirbet Khizehwas an immediate sensation when it first appeared. Since then, the book has continued to challenge and disturb, even finding its way onto the school curriculum in Israel. The various debates it has prompted would themselves make Khirbet Khizeh worth reading, but the novella is much more than a vital historical document: it is also a great work of art. Yizhar's haunting, lyrical style and charged view of the landscape are in many ways as startling as his wrenchingly honest view of modern Israel's primal scene.

Considered a modern Hebrew masterpiece, Khirbet Khizeh is an extraordinary and heartbreaking book that is destined to be a classic of world literature.
PRODUCT INFO
Publisher ‏ : ‎

Farrar, Straus and Giroux; Translation edition (December 9, 2014)

Language ‏ : ‎

English

Paperback ‏ : ‎

144 pages

ISBN-10 ‏ : ‎

0374535566

ISBN-13 ‏ : ‎

978-0374535568

Item Weight ‏ : ‎

5.6 ounces

Dimensions ‏ : ‎

5.11 x 0.4 x 7.61 inches