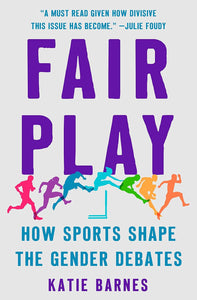 Fair Play: How Sports Shape the Gender Debates by Katie Barnes
OVERVIEW
A richly reported and provocative look at the history of women's sports and the controversy surrounding trans athletes by a leading LGBTQ+ sports journalist.

For decades women have been playing competitive sports, thanks in large part to the protective cover of Title IX. Since the passage of that law, the number of women participating in sports and the level of competition in high school and college and professionally, has risen dramatically. In Fair Play, award-winning journalist Katie Barnes traces the evolution of women's sports as a pastime and a political arena where equality and fairness have been fought over for generations.

As attitudes toward gender have shifted to embrace more fluidity in recent decades, sex continues to be viewed as a static binary that is easily determined: male or female. It is on the very idea of static sex that we have built an entire sporting apparatus. Now that foundation is being hotly debated as a result of intense culture wars. Many transgender and intersex athletes, including a South African runner, a wrestler in Texas, a Connecticut track star, and a swimmer at the University of Pennsylvania, have captured the attention of law and policymakers who want to decide how and when they compete.

Women's sports, since their inception, have been seen as a separate class of competition that requires protection and rules for entry. But what are those rules and who gets to make them? Fair Play looks at all sides of the issue and presents a reasoned and much-needed solution that seeks to preserve opportunities for all going forward.
PRODUCT INFO
Publisher ‏ : ‎

St. Martin's Press (September 19, 2023)

Language ‏ : ‎

English

Hardcover ‏ : ‎

304 pages

ISBN-10 ‏ : ‎

1250276624

ISBN-13 ‏ : ‎

978-1250276629

Item Weight ‏ : ‎

10.6 ounces

Dimensions ‏ : ‎

5.7 x 1.15 x 8.5 inches