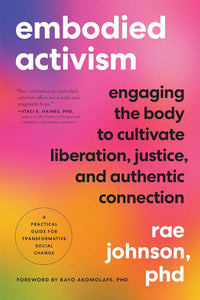 Embodied Activism: Engaging the Body to Cultivate Liberation, Justice, and Authentic Connection--A Practical Guide for Transformative Social Change by Rae Johnson PhD
OVERVIEW
A radically different approach to social and environmental justice work for fans of adrienne maree brown and Bessel van der Kolk

Instead of thinking about social justice as a process that starts with changing people's minds, Embodied Activism understands our bodies--how we feel in them and relate to others through them--as the sites of transformation

How do ordinary people with busy lives leverage our actions in support of liberation, justice, and authentic connection? How can activists and social change-makers avoid burning out? How does the body factor into what our social movements miss?
Drawing on the somatic arts, trauma-informed psychology, and anti-oppressive movements, Embodied Activismhelps us explore and transform the political realities of our everyday lives in a new way: by harnessing the felt experience of our bodies as the sites of our activism.
Rae Johnson teaches us to listen to our body language--and to question body image norms. They show us how to reconnect to our sensual capacities, which we can lose sight of in a non-stop, nervous-system-hijacking world. They give us tools and exercises to nourish ourselves and protect our bodies, minds, and spirits from the toll that activism can take. And they teach us about nonverbal communication styles and how to connect with each other in joyful, authentic community.
Embodied Activism is written for embodiment professionals, community organizers, and all readers looking for new tools and perspectives for changing the world, one body at a time.
PRODUCT INFO
Publisher ‏ : ‎

North Atlantic Books (May 30, 2023)

Language ‏ : ‎

English

Paperback ‏ : ‎

224 pages

ISBN-10 ‏ : ‎

1623176999

ISBN-13 ‏ : ‎

978-1623176990

Item Weight ‏ : ‎

12 ounces

Dimensions ‏ : ‎

6.02 x 0.56 x 9 inches