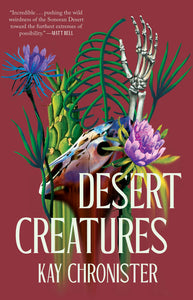 Desert Creatures by Kay Chronister
OVERVIEW
This "genre-shredding" (Tor.com) feminist dystopian eco-horror, perfect for fans of The Last of Us, traces a girl's coming-of-age on a post-apocalyptic trek through the Southwest.

In a bleak, desiccated future, eleven-year-old Magdala and her father are forced to flee through the desolate landscape of the American Southwest, searching for shelter and peace. Pursued by horrors both unnatural and all-too-human, they join a pilgrimage to the holy city of Las Vegas, where it is said that vigilante saints reside, bright with neon power. Magdala, born with a clubfoot, is determined to be healed there. But one by one, the pilgrims and her father fall victim to an eerie, all-consuming sickness—leaving Magdala to fend for herself in the wilderness.

After surviving for years on her own, Magdala grows tired of waiting for her miracle. She turns her gaze to Las Vegas once more, taking an exiled Vegas priest hostage to guide her as she navigates the unsettling expanse of the desert and the hungry, dark ambitions of men. Even as she nears the holy land, Magdala must choose: survival or salvation?

In this moving debut novel, acclaimed short fiction writer Kay Chronister twines the strange, terrible beauty of the desert into a haunting exploration of faith and hope. Bold and disquieting, Desert Creatures is a surreal examination of humanity and the myths we tell ourselves to survive.
PRODUCT INFO
Publisher ‏ : ‎

Erewhon Books (November 8, 2022)

Language ‏ : ‎

English

Hardcover ‏ : ‎

288 pages

ISBN-10 ‏ : ‎

1645660524

ISBN-13 ‏ : ‎

978-1645660521

Item Weight ‏ : ‎

15.2 ounces

Dimensions ‏ : ‎

5.8 x 1 x 8.8 inches