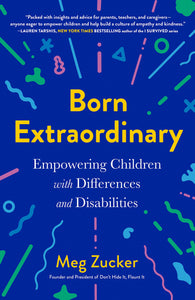 Born Extraordinary: Empowering Children with Differences and Disabilities by Meg Zucker
OVERVIEW
A parent's guide to empowering children to embrace their visible and invisible differences

    Meg Zucker was born with one finger on each hand, shortened forearms, and one toe on each misshapen foot, caused by a genetic condition called ectrodactyly. She would eventually pass this condition on to her two sons, and, along with her husband, raise them and their adopted daughter, who has her own invisible differences. Born of the family's hard-won experiences, this book offers invaluable advice on raising confident, empathetic, and resilient children who succeed, not despite but because of their differences.
    Born Extraordinary helps parents of children with differences and disabilities to relinquish their instinctive anxieties, embrace their new normal, and ultimately find joy in watching their children thrive. Often the subjects of unwanted attention—ranging from pitying stares to bullying—Zucker and her sons have learned to ignore what others think and live fearlessly. Also incorporating the stories of other families with visible and invisible differences of all kinds, Born Extraordinary gives parents the tools to meet their children's emotional needs while supporting the whole family unit. Parents learn how best to empower their children to confront others' assumptions, grow in confidence, and encourage dialogue—rather than silence, fear, and shame—around difference.
PRODUCT INFO
Publisher ‏ : ‎

TarcherPerigee (March 7, 2023)

Language ‏ : ‎

English

Paperback ‏ : ‎

272 pages

ISBN-10 ‏ : ‎

0593419383

ISBN-13 ‏ : ‎

978-0593419380

Item Weight ‏ : ‎

8.8 ounces

Dimensions ‏ : ‎

5.15 x 0.71 x 7.94 inches