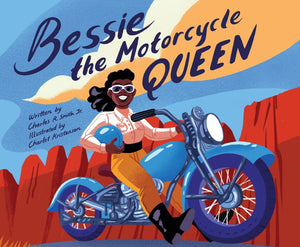 Bessie the Motorcycle Queen by Charles R. Smith Jr.
OVERVIEW
The folks they lined up to meet the Motorcycle Queen, seated sidesaddle on her motorbike machine.
In 1929, 18-year-old Bessie Stringfield hopped on her motorcycle and headed out on an adventure, an unusual choice for a young Black woman at the time. Paying her way by winning motorcycle races, she criss-crossed the country through small towns, big cities, and wide open spaces.
But not everyone was happy to see Bessie's brown face peeking out from underneath her helmet. And more than once, Bessie found herself making some quick exits on the back of her bike to escape Jim Crow. A trailblazer in the world of women's racing and motorcycling, Bessie Stringfield was a figure who will inspire all children to pursue their dreams.
From the first line, award-winning author Charles R. Smith Jr.'s poetry evokes emotion, excitement, fear, and wonder in equal measures. Charlot Kristensen portrays Bessie and the American landscape with vivid imagery that is sure to capture the attention of young readers.
A much-needed story about a Black woman who paved the way for future generations, for fans of The Undefeated by Kwame Alexander and Kadir Nelson and My Papi Has a Motorcycle by Isabel Quintero and Zeke Peña.
PRODUCT INFO
Publisher ‏ : ‎

Orchard Books (September 20, 2022)

Language ‏ : ‎

English

Hardcover ‏ : ‎

40 pages

ISBN-10 ‏ : ‎

1338752472

ISBN-13 ‏ : ‎

978-1338752472

Reading age ‏ : ‎

6 - 8 years

Grade level ‏ : ‎

1 - 3

Item Weight ‏ : ‎

1.15 pounds

Dimensions ‏ : ‎

11.5 x 0.5 x 9.5 inches