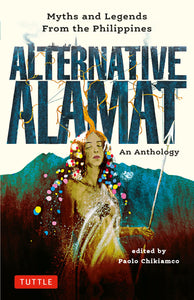 Alternative Alamat: An Anthology: Myths and Legends from the Philippines by Paolo Chikiamco
OVERVIEW
An anthology of speculative short fiction from 12 talented Asian authors!

Dip into the rich treasure trove of Filipino alamat (legends) with this new collection of contemporary short stories. This anthology includes works by a dozen talented and award-winning Filipino writers including Budjette Tan (Trese) and Eliza Victoria (Dwellers). Explore richly imagined realms where powerful gods and magical creatures are responsible for the twists and turns of fate in the lives of ordinary people.

The 13 amazing stories in this collection include:
The fate of the lingering Sky Maiden

The diwata Maria Makiling seeking romantic partners in the human world

Depictions of Philippine deities, including Balitok, Bangunbangun, Dagau, Haliya, Hukloban and Melu

Encounters with celestial power beneath the sea, at the movies and in a pawnshop

And many more!

Each tale is reimagined for a modern sensibility and reinvented for the current generation of fantasy fiction fans. This gripping collection is essential reading for anyone interested in magical realism and contemporary Filipino fiction.
PRODUCT INFO
Publisher ‏ : ‎

Tuttle Publishing (August 16, 2022)

Language ‏ : ‎

English

Hardcover ‏ : ‎

224 pages

ISBN-10 ‏ : ‎

0804855579

ISBN-13 ‏ : ‎

978-0804855570

Item Weight ‏ : ‎

13.9 ounces

Dimensions ‏ : ‎

5.75 x 1.25 x 8.5 inches