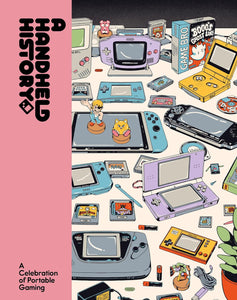 A Handheld History: A Celebration of Portable Gaming by Lost in Cult
OVERVIEW
A Handheld History is a unique celebration of portable platforms and their iconic games.
Forty years ago, businessmen fiddling with calculators inspired Gunpei Yokoi to create the Game & Watch. Ever since then, handheld gaming has been hugely influential, spawning communities who trade Pokémon in the playground and share Miis on the subway. This introspective adventure will delve into decades of gaming memories and reconnect you to that long car journey full of discarded AA batteries before speeding ahead to the contemporary days of blockbusters in your backpack.
Handheld gaming is celebrated loudly, proudly, and across hundreds of beautifully assembled pages of art and essays. Featuring words from many incredible voices, this is an unmissable ode to the gaming device that you keep close to your heart – right in your jacket pocket.
PRODUCT INFO
Publisher ‏ : ‎

Expanse (October 17, 2023)

Language ‏ : ‎

English

Hardcover ‏ : ‎

272 pages

ISBN-10 ‏ : ‎

0008598177

ISBN-13 ‏ : ‎

978-0008598174

Item Weight ‏ : ‎

2.47 pounds

Dimensions ‏ : ‎

7.68 x 1.3 x 9.92 inches