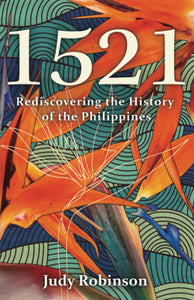 1521: Rediscovering the History of the Philippines by Judy Robinson
OVERVIEW
In rediscovering these stories about our shared history, we learn who we were, who we are, and who we can be.

Adventure can be uncovered in the most unexpected of places. In 1521: Rediscovering the History of the Philippines, author Judy Robinson takes a deep dive into the forgotten stories of Filipinos in the advent of Spanish colonization, beginning with Ferdinand Magellan's arrival in the archipelago.

Robinson goes on a journey to discover the hidden history of the Philippines and of herself. She shares with us that history consists of more than one story. While reading this book, you will discover that precolonial Filipinos had a complex social structure that was more advanced than previously acknowledged.

Through 1521: Rediscovering the History of the Philippines, Robinson hopes to share these stories from history, teach the next generation of the diaspora more about where they come from, and see the different sides of history as a way to find what connects us instead of what divides us.
PRODUCT INFO
Publisher ‏ : ‎

New Degree Press (February 16, 2022)

Language ‏ : ‎

English

Paperback ‏ : ‎

282 pages

ISBN-10 ‏ : ‎

1637307012

ISBN-13 ‏ : ‎

978-1637307014

Item Weight ‏ : ‎

11.7 ounces

Dimensions ‏ : ‎

5.5 x 0.64 x 8.5 inches