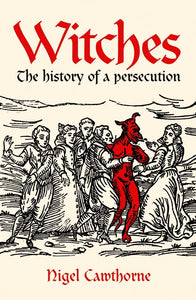 Witches: The history of a persecution by Nigel Cawthorne
OVERVIEW
When bigotry and power-mania take control, disaster always follows for subjugated persons - even when the power is wielded by the Church.

Witchcraft was viewed as devil-worship. Between 1450 and 1750, one hundred thousand people were accused, subject to the most bestial tortures and usually executed. Witches examines the wildfire-spread of witch hunting across Europe and America, revealing the disturbing and brutal realities of these witch hunts and their roots in misogyny and religious persecution.

It includes:
• Letters and trial testimonies from those charged with witchcraft, as well as some from self-proclaimed witches
• Biographic detail of key witch hunters, such as Matthew Hopkins (the so-called Witchfinder General) who was responsible for hundreds of executions
• Accounts of famous witch trials, from Chelmsford to Salam

Nigel Cawthorne doesn't shy away from the violent details of this persecution, exploring the events as they transpired, the contexts that triggered them and tracing it back to its source.

Please note: This title contains descriptions of a violent and sexual nature and is not intended for younger readers. Discretion is advised.
PRODUCT INFO
Publisher ‏ : ‎

Arcturus (March 30, 2020)

Language ‏ : ‎

English

Paperback ‏ : ‎

240 pages

ISBN-10 ‏ : ‎

178950841X

ISBN-13 ‏ : ‎

978-1789508413

Item Weight ‏ : ‎

8 ounces

Dimensions ‏ : ‎

5.1 x 0.7 x 7.7 inches