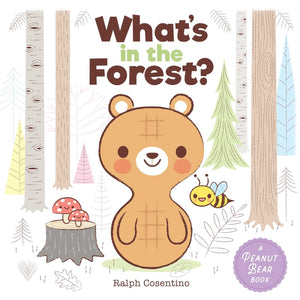 What's in the Forest? by Ralph Cosentino
OVERVIEW
Explore the magical forest of Yippity Yay with Peanut Bear and all his friends!

The forest has all sorts of wonders to see. There are thin trees and thick trees, little ponds and big lakes, streams and waterfalls, fields of flowers, and so much more.

Featuring illustrations of Peanut Bear, his family, Unicorny, and the rest of the gang, this journey through the forest of Yippity Yay is the perfect way to appreciate nature with your favorite characters. Climb trees with Sqwhale, fish in the lake with Papa Bear, and buzz through all the different plants with Bea. Peanut Bear knows that as long as he has his friends and his family by his side, there are always new adventures to be had in his favorite place—the forest!
PRODUCT INFO
Publisher ‏ : ‎

Insight Kids (October 9, 2018)

Language ‏ : ‎

English

Board book ‏ : ‎

24 pages

ISBN-10 ‏ : ‎

1683832353

ISBN-13 ‏ : ‎

978-1683832355

Reading age ‏ : ‎

5 - 8 years

Grade level ‏ : ‎

1 - 2

Item Weight ‏ : ‎

6.4 ounces

Dimensions ‏ : ‎

6 x 0.6 x 6 inches