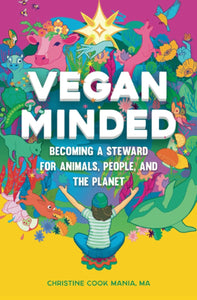 Vegan Minded: Becoming a Steward for Animals, People, and the Planet by Christine Cook Mania
OVERVIEW
According to readers, the stories in this book make being vegan accessible and demystify veganism for nonvegan readers. Anyone who is striving to make a positive difference in the world should read this book.
After reading Eating Animals, a national bestseller, by Jonathan Safran Foer, Christine Mania was left frustrated. Foer told the critical story of animal agriculture and factory farming including the brutality, devastation, and the moral dilemma of eating animals. Where Eating Animals left off, Vegan Minded picks up with stories and reflections on what it's like to live vegan in a world set up for meat-eaters.
Meet the vegan girl next door as she explores the journey to veganism and beyond. Like many people, Christine just wanted to fit in and belong. And yet, how do you fit in when you don't want to eat what everyone else is eating? Food can be a contentious topic—just like sex, money, and politics. In her memoir-in-essays, Christine explores navigating a true path for herself in a culture set up to use animal products at every turn. And then, just when she thought she had it all figured out, she married an environmentalist. Now faced with more big changes, Christine had to figure out how to thrive in the world as a vegan environmentalist.
Part memoir, part informative guide, Vegan Minded covers topics ranging from vegetarianism to veganism to yoga to diets to dating to climate change to pets and to activism. Each topic circles back to looking at the world through a vegan lens. Every essay was influenced by her studies of animal protection, environmental ethics, human rights, and culture & change. With heart and humor, this book tells a story of transformation, fortitude, and joy.
Vegan Minded will set you on a path to your own transformation including steps you can take to change the world and leave your own legacy of compassion and stewardship.
PRODUCT INFO
Publisher ‏ : ‎

Independently published (September 7, 2023)

Language ‏ : ‎

English

Paperback ‏ : ‎

272 pages

ISBN-13 ‏ : ‎

9781088262856

Item Weight ‏ : ‎

13.4 ounces

Dimensions ‏ : ‎

5.25 x 0.68 x 8 inches