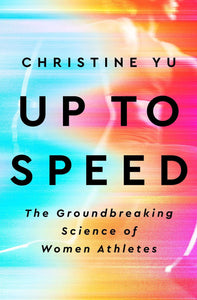 Up to Speed: The Groundbreaking Science of Women Athletes by Christine Yu
OVERVIEW
How the latest science can help women achieve their athletic potential

Over the last fifty years, women have made extraordinary advances in athletics. More women than ever are playing sports and staying active longer. Whether they're elite athletes looking for an edge or enthusiastic amateurs, women deserve a culture of sports that helps them thrive: training programs and equipment designed to work with their bodies, as well as guidelines for nutrition and injury prevention that are based in science and tailored to their lived experience.

Yet too often the guidance women receive is based on research that fails to consider their experiences or their bodies. So much of what we take as gospel about exercise and sports science is based solely on studies of men.

The good news is, this is finally changing. Researchers are creating more inclusive studies to close the gender data gap. They're examining the ways women can boost athletic performance, reduce injury, and stay healthy. 

Sports and health journalist Christine Yu disentangles myth and gender bias from real science, making the case for new approaches that can help women athletes excel at every stage of life, from adolescence to adulthood, through pregnancy, menopause, and beyond. She explains the latest research and celebrates the researchers, athletes, and advocates pushing back against the status quo and proposing better solutions to improve the active and athletic lives of women and girls.
PRODUCT INFO
Publisher ‏ : ‎

Riverhead Books (May 16, 2023)

Language ‏ : ‎

English

Hardcover ‏ : ‎

336 pages

ISBN-10 ‏ : ‎

0593332393

ISBN-13 ‏ : ‎

978-0593332399

Item Weight ‏ : ‎

1.23 pounds

Dimensions ‏ : ‎

6.23 x 1.08 x 9.28 inches