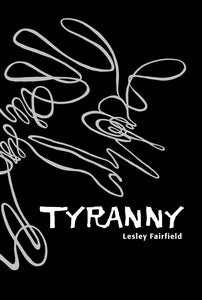 Tyranny by Lesley Fairfield
OVERVIEW
In Tyranny, brisk, spare text and illustrations that deal head-on with anorexia propel the reader along on Anna's journey as she falls prey to the eating disorder, personified as her tormentor, Tyranny.

The novel starts with a single question: "How did I get here?" The answer lies in the pages that follow, and it's far from simple. Pressured by media, friends, the workplace, personal relationships, and fashion trends, Anna descends into a seemingly unending cycle of misery. And whenever she tries to climb out of the abyss, her own personal demon, Tyranny, is there to push her back in. The contest seems uneven, and it might be except for one thing: Anna's strength of character has given rise to her deadly enemy. Ironically, it is that same strength of character that has the ultimate power to save her from the ravages of Tyranny.

Brilliantly and realistically presented, Tyranny is a must-read for anyone looking for a better understanding of eating disorders and for everyone looking for a compelling page-turner that is truly a story of triumph and hope.
PRODUCT INFO
Publisher ‏ : ‎

Tundra Books; Illustrated edition (October 13, 2009)

Language ‏ : ‎

English

Paperback ‏ : ‎

120 pages

ISBN-10 ‏ : ‎

9780887769030

ISBN-13 ‏ : ‎

978-0887769030

Reading age ‏ : ‎

12 - 17 years

Grade level ‏ : ‎

7 - 9

Item Weight ‏ : ‎

5.6 ounces

Dimensions ‏ : ‎

5.31 x 0.29 x 7.64 inches