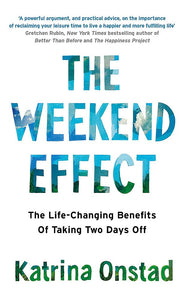 The Weekend Effect: The Life-Changing Benefits of Taking Two Days Off by Katrina Onstad
OVERVIEW
Encroaching work demands - coupled with domestic chores, overbooked schedules, and the incessant pinging of our devices - have taken a toll on what used to be our free time: the weekend. With no space to tune out and recharge, every aspect of our lives is suffering: our health is deteriorating, our social networks (the face-to-face kind) are dissolving and our productivity is down. The notion of working less and living more has given way to the belief that you must be 'on' 24/7.
Tired of suffering from Sunday-night let down, award-winning journalist Katrina Onstad pushes back against this all-work-no-fun ethos. Onstad follows the trail of people, companies and countries vigilantly protecting their time off for joy, adventure and meaning, and digs into the history, positive psychology and cultural anthropology of the great missing weekend.
The Weekend Effect reveals that taking back those precious forty-eight hours is the key to increasing joy, creativity, productivity and success. It will be your persuasive, practical and much-needed guide to reclaiming your time off and, ultimately, saving yourself.
PRODUCT INFO
Publisher ‏ : ‎

Piatkus (October 17, 2019)

Language ‏ : ‎

English

Paperback ‏ : ‎

304 pages

ISBN-10 ‏ : ‎

0349411204

ISBN-13 ‏ : ‎

9781443449250

Item Weight ‏ : ‎

8.5 ounces

Dimensions ‏ : ‎

4.96 x 1.02 x 7.72 inches