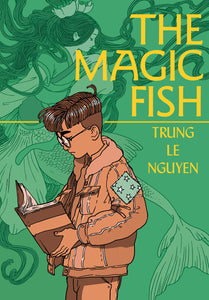 The Magic Fish by Trung Le Nguyen
OVERVIEW
In this gorgeous debut graphic novel, fairy tales are the only way one boy can communicate with his Vietnamese immigrant parents. But how will he find the words to tell them that he's gay? A powerful read about family, identity and the enduring magic of stories.
 
"One of the most astounding graphic novels of the year"  –Entertainment Weekly

Tien and his mother may come from different cultures—she's an immigrant from Vietnam still struggling with English; he's been raised in America—but through the fairy tales he checks out from the local library, those differences are erased.
 
But as much as Tien's mother's English continues to improve as he reads her tales of love, loss, and travel across distant shores, there's one conversation that still eludes him—how to come out to her and his father. Is there even a way to explain what he's going through in Vietnamese? And without a way to reveal his hidden self, how will his parents ever accept him?
 
This beautifully illustrated graphic novel speaks to the complexity of family and how stories can bring us together even when we don't know the words.
PRODUCT INFO
Publisher ‏ : ‎

Random House Graphic; Illustrated edition (October 13, 2020)

Language ‏ : ‎

English

Paperback ‏ : ‎

256 pages

ISBN-10 ‏ : ‎

1984851594

ISBN-13 ‏ : ‎

978-1984851598

Reading age ‏ : ‎

12+ years

Grade level ‏ : ‎

7 - 9

Item Weight ‏ : ‎

1.1 pounds

Dimensions ‏ : ‎

5.75 x 0.78 x 8.19 inches