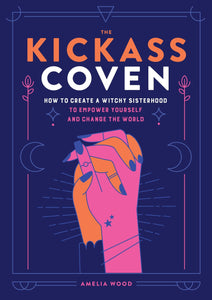 The Kickass Coven: How to Create a Witchy Sisterhood to Empower Yourself and Change the World by Amelia Wood
OVERVIEW
Find your people and make beautiful magic together!

With supercharged disasters and unprecedented inequity, this crazy world of ours needs more than a modern witch. It needs badass magical activists working together to make a real difference. It needs you. And with the right people by your side, not only can you change the world, you can also have a damn good time doing it. No matter where you are in your journey, The Kickass Coven is here to help you find your magical family and create a world-changing practice you'll love.

Inside you'll find:
- Magical and practical ways to manifest witchy sisters who'll bring out your best
- Tips and tricks for becoming badass magical activists for the planet, for the people you care about, and for all your favorite causes
- All the tools and encouragement you'll need to create a coven that works for you
- More than 30 rituals and practices to help you get sh*t done
- Info on all the fun stuff, from crystals and cauldrons to tarot cards and herbs
- Step-by-step advice for achieving your dreams by magical means

Step into your power and change the world with The Kickass Coven, your judgment-free guide to finding people who get it and making your collective goals come true!
PRODUCT INFO
Publisher ‏ : ‎

Castle Point Books (March 15, 2022)

Language ‏ : ‎

English

Hardcover ‏ : ‎

208 pages

ISBN-10 ‏ : ‎

1250279542

ISBN-13 ‏ : ‎

978-1250279545

Item Weight ‏ : ‎

10.6 ounces

Dimensions ‏ : ‎

6.44 x 0.93 x 8.71 inches