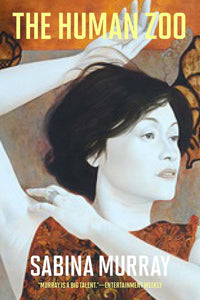 The Human Zoo by Sabina Murray
OVERVIEW
A blistering new novel that follows a Filipino American journalist's return to dictatorship-ruled Manila to research her book on tribes from a "cracklingly original" (Elle) and "singular" (New York Times Book Review) author, PEN Faulkner award-winner, Sabina Murray.
Filipino-American Christina "Ting" Klein has just travelled from New York to Manila, both to escape her imminent divorce, and to begin research for a biography of Timicheg, an indigenous Filipino brought to America at the start of 20th century to be exhibited as part of a "human zoo." It has been a year since Ting's last visit, and one year since Procopio "Copo" Gumboc swept the elections in an upset and took power as president. Arriving unannounced at her aging Aunt's aristocratic home, Ting quickly falls into upper class Manila life—family gatherings at her cousin's compound; spending time with her best friend Inchoy, a gay socialist professor of philosophy; and a flirtation with her ex-boyfriend Chet, a wealthy businessman with questionable ties to the regime. All the while, family duty dictates that Ting be responsible for Laird, a cousin's fiancé, who has come from the States to rediscover his roots.
As days pass, Ting witnesses modern Filipino society languishing under Gumboc's terrifying reign. To make her way, she must balance the aristocratic traditions of her extended family, seemingly at odds with both situation and circumstance, as well temper her stance towards a regime her loved ones are struggling to survive. Yet Ting cannot extricate herself from the increasingly repressive regime, and soon finds herself personally confronted by the horrifying realities of Gumboc's power.
At once a propulsive look at contemporary Filipino politics and the history that impacted the country, The Human Zoo is a thrilling and provocative story from one of our most celebrated and important writers of literary fiction.
PRODUCT INFO
Publisher ‏ : ‎

Grove Press (August 8, 2021)

Language ‏ : ‎

English

Hardcover ‏ : ‎

304 pages

ISBN-10 ‏ : ‎

0802157505

ISBN-13 ‏ : ‎

978-0802157508

Item Weight ‏ : ‎

15.2 ounces

Dimensions ‏ : ‎

5.83 x 1.1 x 9.06 inches