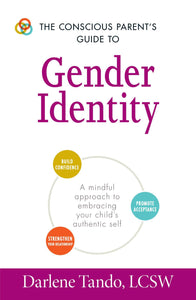 The Conscious Parent's Guide to Gender Identity by Darlene Tando
OVERVIEW
If your child is questioning their gender identity, you may have questions of your own—The Conscious Parent's Guide to Gender Identity helps answer those questions, providing a relationship-oriented approach to supporting your child's journey.

Conscious parenting means being present with your children and taking the time to understand their point of view, especially when it comes to supporting their exploration of gender identity. Using this mindful method, you can support and guide your children as they discover their authentic selves.

With this easy-to-navigate guide, you'll learn how to:

-Communicate openly with your child about gender identity

-Empower your child to make their own decisions

-Create a welcoming environment at home

-Guide your child through social and medical transitions

-Help your child feel comfortable with friends, at school, and in your community

-Deal with others' opinions about your parenting choices

-Plan a happy, successful future for you and your child

This mindful method of parenting will allow you and your children to strengthen your bond while allowing them to be who they truly are.
PRODUCT INFO
Publisher ‏ : ‎

Adams Media (July 1, 2016)

Language ‏ : ‎

English

Paperback ‏ : ‎

240 pages

ISBN-10 ‏ : ‎

1440596301

ISBN-13 ‏ : ‎

978-1440596308

Item Weight ‏ : ‎

13.1 ounces

Dimensions ‏ : ‎

5.5 x 0.6 x 8.44 inches