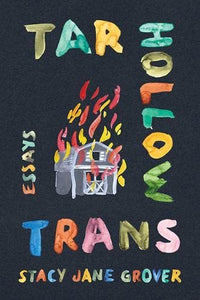 Tar Hollow Trans by Stacy Jane Grover
OVERVIEW
Raised in southeast Ohio, Stacy Jane Grover would not describe her upbringing as "Appalachian." Appalachia existed farther afield―more rural, more country than the landscape of her hometown.

Grover returned to the places of her childhood to reconcile her identity and experience with the culture and the people who had raised her. She began to reflect on her memories and discovered that group identities like Appalachian and transgender are linked by more than just the stinging brand of social otherness.

In Tar Hollow Trans, Grover explores her transgender experience through common Appalachian cultural traditions. In "Dead Furrows," a death vigil and funeral leads to an investigation of Appalachian funerary rituals and their failure to help Grover cope with the grief of being denied her transness. "Homeplace" threads family interactions with farm animals and Grover's coming out journey, illuminating the disturbing parallels between the American Veterinary Association's guidelines for ethical euthanasia and the World Professional Association for Transgender Health's guidelines for transgender care.

Together, her essays write transgender experience into broader cultural narratives beyond transition and interrogate the failures of concepts such as memory, metaphor, heritage, and tradition. Tar Hollow Transinvestigates the ways the labels of transgender and Appalachian have been created and understood and reckons with the ways the ever-becoming transgender self, like a stigmatized region, can find new spaces of growth.
PRODUCT INFO
Publisher ‏ : ‎

University Press of Kentucky (June 20, 2023)

Language ‏ : ‎

English

Hardcover ‏ : ‎

152 pages

ISBN-10 ‏ : ‎

0813197554

ISBN-13 ‏ : ‎

978-0813197555

Item Weight ‏ : ‎

8.8 ounces

Dimensions ‏ : ‎

5.7 x 1.2 x 8.1 inches