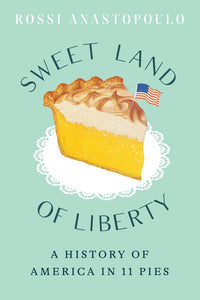 Sweet Land of Liberty: A History of America in 11 Pies by Rossi Anastopoulo
OVERVIEW
A delicious and delightful narrative history of pie in America, from the colonial era through the civil rights movement and beyond

From the pumpkin pie gracing the Thanksgiving table to the apple pie at the Fourth of July picnic, nearly every American shares a certain nostalgia for a simple circle of crust and filling. But America's history with pie has not always been so sweet. After all, it was a slice of cherry pie at the Woolworth's lunch counter on a cool February afternoon that helped to spark the Greensboro sit-ins and ignited a wave of anti-segregation protests across the South during the civil rights movement. Molasses pie, meanwhile, captures the legacies of racial trauma and oppression passed down from America's history of slavery, and Jell-O pie exemplifies the pressures and contradictions of gender roles in an evolving modern society. We all know the warm comfort of the so-called "All-American" apple pie . . . but just how did pie become the symbol of a nation?

In Sweet Land of Liberty: A History of America in 11 Pies, food writer Rossi Anastopoulo cracks open our relationship to pie with wit and good humor. For centuries, pie has been a malleable icon, co-opted for new social and political purposes. Here, Anastopoulo traces the pies woven into our history, following the evolution of our country across centuries of innovation and change. With corresponding recipes for each chapter and sidebars of quirky facts throughout, Sweet Land of Liberty is an entertaining, informative, and utterly charming food history for bakers, dessert lovers, and history aficionados alike. Ultimately, the story of pie is the story of America itself, and it's time to dig in.
PRODUCT INFO
Publisher ‏ : ‎

Harry N. Abrams (October 25, 2022)

Language ‏ : ‎

English

Hardcover ‏ : ‎

336 pages

ISBN-10 ‏ : ‎

1419754874

ISBN-13 ‏ : ‎

978-1419754876

Item Weight ‏ : ‎

1.05 pounds

Dimensions ‏ : ‎

5.95 x 1.35 x 8.55 inches