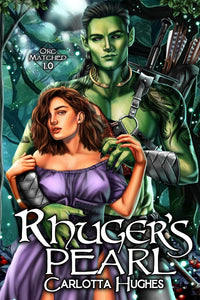 Rhuger's Pearl by Carlotta Hughes
OVERVIEW
AMELIA
Grandma Ruth's Tolkien-inspired bed-and-breakfast holds a secret, a broken interstellar gate. She tells me my grandfather wasn't human, but an orckin who had come to Earth through the gate, and returned to his home planet through it. Getting the gate to work to find him was the easy part. Now, face-first in the dirt of his home planet, I have no plan. No way to get back, either.
Rhuger finds me. A seven-foot-tall green orc bristling with weapons whose sinful mouth and dark laughter make my heart race. With his help as my bodyguard, I'm navigating this new world. But I've been given two weeks by the Rìgh of the Oc'Dellor to find a mate within the clan, or risk being married off to avoid war. I know who I'd choose if I could. But Rhuger has made it clear that I am his duty, nothing more. Though he can't keep his hand out of mine.
RHUGER
Never in a thousand years did I imagine finding a lush female within the Craobh na Beatha, the holy six-winged tree. She's orckin, but not entirely. Amelia's a rare beauty, but I'm an exile from a rival clan, barely accepted into the Oc'Dellor despite my prowess as a warrior. Appointed as her bodyguard, I keep having to remind myself that someone like her is not meant for someone like me.
But it's not just Amelia's soft curves and bowed mouth that haunts my dreams. It's how she perceives and moves through my world with awe and gentleness, how her touch awakens something within me. When Rìgh Orok of the Oc'Turin makes a play for her hand, I'd do anything to prevent her from living the nightmares of my past. Including fighting against everything that would tear us apart in order to make her mine.
This is a 180,000 word, full-length, slow-burn, high heat, sci-fi alien orc romance with a plus-sized sunshine autistic FMC, grumpy morally grey MMC, intense world-building, epic fantasy, plenty of simping, hurt/comfort, who hurt you?, fated mates, and a guaranteed HEA.
PRODUCT INFO
Publisher ‏ : ‎

Carlotta Hughes (January 23, 2023)

Language ‏ : ‎

English

Paperback ‏ : ‎

690 pages

ISBN-10 ‏ : ‎

0989379957

ISBN-13 ‏ : ‎

978-0989379953

Item Weight ‏ : ‎

2.01 pounds

Dimensions ‏ : ‎

6 x 1.56 x 9 inches