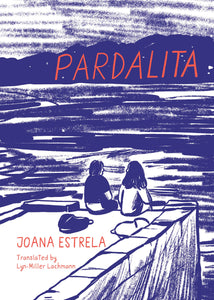 Pardalita by Joana Estrela
OVERVIEW
16-year-old Raquel lives in a small town in Portugal, the kind of place where everyone knows everyone else's business. Her parents are divorced and she's just been suspended for cursing out a school aide asking about her father's new marriage. She has two best friends, Luísa and Fred, but wants something more.

Then, from afar, she sees Pardalita, a senior and a gifted artist who's moving to Lisbon to study in the fall. The two girls get to know each other while working on a play. And Raquel falls in love.

From author/artist Joana Estrela comes Pardalita, a beautiful slice-of-life story that is This One Summer meets Ursula K. Le Guin's Very Far Away from Anywhere Else, told in flashbacks and present day action. Using a gorgeous blend of prose poems, illustrations, and graphic novel format, Estrela captures the feeling of being a teenager in a way that feels gentle, joyful, and real.
PRODUCT INFO
Publisher ‏ : ‎

Levine Querido (April 18, 2023)

Language ‏ : ‎

English

Hardcover ‏ : ‎

224 pages

ISBN-10 ‏ : ‎

1646142551

ISBN-13 ‏ : ‎

978-1646142552

Reading age ‏ : ‎

12 - 18 years

Grade level ‏ : ‎

7 - 12

Item Weight ‏ : ‎

1.14 pounds

Dimensions ‏ : ‎

6.45 x 1.1 x 8.8 inches