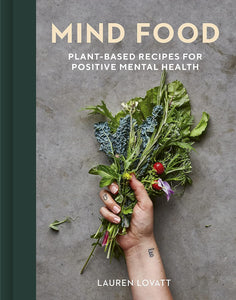 Mind Food: Plant-based Recipes for Positive Mental Health by Lauren Lovatt
OVERVIEW
Mind Food is a delicious and revolutionary invitation to eating whole foods, with a mind-nourishing twist – inspired by years of research around how food can make us happy and boost our moods.

Founder of the Plant Academy and the woman behind Feed Your Mind Candy, plant-based chef and food educator Lauren Lovatt mindfully reconnects readers to the adage of 'we are what we eat' in this appetising new-wave cookbook. 

Drawing on her own experiences of mental health, Lovatt presents an empowering approach to food and wellbeing which is nourishing, sustainable and good for both us and the planet.

Focusing on hero ingredients of plants, whole grains, healthy fats, legumes, and tonic herbs, vibrant vegan recipes offer emotional balance with a splash of creativity, and a sprinkle of magic!

With recipes presented by season in order to make the most of freshly-grown produce and to maximise the benefits according to our different needs at each time of year, ideas in this book include:

Flavourful and brain-boosting 

kimchi and black bean tostadas;

Delicious

pumpkin arancini, 

filled with healthy fats and rainbow vegetables; 

A

destressing CBD stir-fry 

with wild rice, ginger and sunflower seeds; 

An

energy-boosting mind food fry-up

of qi beans, scrambled tofu, caramelized tomatoes and smoked mushrooms...
And many, many more!
PRODUCT INFO
Publisher ‏ : ‎

Leaping Hare Press; 1st edition (February 15, 2022)

Language ‏ : ‎

English

Hardcover ‏ : ‎

192 pages

ISBN-10 ‏ : ‎

0711264570

ISBN-13 ‏ : ‎

978-0711264571

Item Weight ‏ : ‎

1.06 pounds

Dimensions ‏ : ‎

7.4 x 0.95 x 9.35 inches