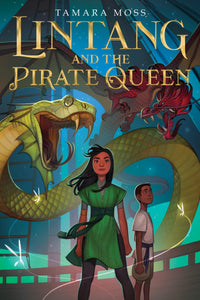 Lintang and the Pirate Queen by Tamara Moss
OVERVIEW
Gutsy girls and strong women make up the diverse and appealing crew of a pirate ship that battles intrigue and deadly monsters in an action-filled fantasy adventure.

"Combine a pirate adventure of mythic proportions, a uniquely charming cast of characters, and a vivid new fantasy world, and you get Lintang and the Pirate Queen. Magical, inventive, and positively unforgettable." —Marissa Meyer, best-selling author of The Lunar Chronicles

Lintang is an island girl who longs for daring and danger. When she meets the feared pirate Captain Shafira and her all-female crew, Lintang is determined to join them. Secrets within secrets, life-or-death battles with spectacular monsters, and hair's breadth escapes keep readers turning the pages of a story populated by women of color who are fighters, adventurers, and leaders.
PRODUCT INFO
Publisher ‏ : ‎

Clarion Books (January 25, 2022)

Language ‏ : ‎

English

Paperback ‏ : ‎

368 pages

ISBN-10 ‏ : ‎

0358539773

ISBN-13 ‏ : ‎

978-0358539773

Reading age ‏ : ‎

10 - 12 years

Grade level ‏ : ‎

5 - 7

Item Weight ‏ : ‎

9.6 ounces

Dimensions ‏ : ‎

5.13 x 0.97 x 7.63 inches