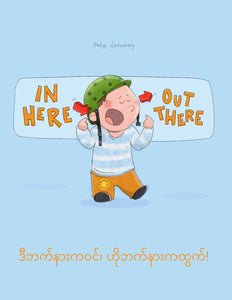 In here, out there! Children's Picture Book English-Filipino/Tagalog by Philipp Winterberg
OVERVIEW
Children's Picture Book English-Filipino/Tagalog
When the neighbor complains, Ruby teases and the kindergarten teacher keeps nagging, Joseph couldn't care less. Luckily, you have two ears: one for in and one for out. There is only one person in the world that Joseph listens to ...
80+ Languages and Dialects
The picture book In Here, Out There! has been translated into over 80 languages and dialects since its publication: Afrikaans, Albanian, Amharic, Arabic, Armenian, Asturian, Azerbaijani, Bengali, Bosnian, Bulgarian, Brazilian Portuguese, Burmese, Catalan, Chinese, Croatian, Czech, Danish, Dhivehi, Dutch, Dzongkha, English, Esperanto, Estonian, Ewe, Farsi, Filipino, Finnish, Flemish, French, Georgian, German, Greek, Greenlandic, Hindi, Hungarian, Icelandic, Indonesian, Irish Gaelic, Italian, Jamaican Patois/Jamaican Creole, Japanese, Khmer, Kongo/Kikongo, Korean, Kyrgyz, Lao, Latin, Latvian, Lingala, Lithuanian, Luxembourgish, Macedonian, Malagasy, Malay, Maldivian, Mongolian, Montenegrin, Nepali, Norwegian, Norn, Persian, Polish, Portuguese (Portugal), Romanian, Russian, Samoan, Scottish Gaelic, Serbian, Slovak, Slovenian/Slovene, Spanish, Swahili, Swedish, Swiss German, Tagalog, Tajik, Tamil, Thai, Tibetan, Turkish, Turkmen, Ukrainian, Uzbek, Vietnamese, ...
PRODUCT INFO
Publisher ‏ : ‎

CreateSpace Independent Publishing Platform; Bilingual, Illustrated edition (March 21, 2015)

Language ‏ : ‎

English

Paperback ‏ : ‎

40 pages

ISBN-10 ‏ : ‎

1508954755

ISBN-13 ‏ : ‎

978-1508954750

Reading age ‏ : ‎

2 - 6 years

Item Weight ‏ : ‎

3.84 ounces

Dimensions ‏ : ‎

8.5 x 0.11 x 11 inches