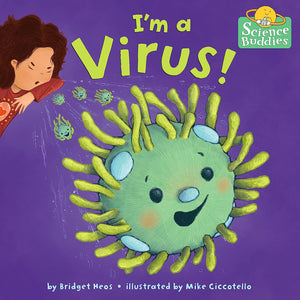 I'm a Virus! by Bridget Heos
OVERVIEW
Scary science is introduced with humor-laced facts in this new nonfiction picture book series from a prolific, award-winning children's book author, starting with our tiniest invader—the common cold virus, and its more frightening relatives!

How does a virus make us sick? How does it spread? And what can people do to beat them?

Hi, I'm Virus! And I'm here to answer all these questions and more!

In friendly, simple text, the most "common" virus, rhinovirus (the common cold), explains how viruses work and spread. With funny, engaging, and informative illustrations, this is the perfect way to explain viruses to young children who have questions in the wake of a pandemic. The nonthreatening common cold walks readers through the basics of viruses, and then features past viruses we have defeated, as well as introducing COVID-19.

The start of a new series designed to make scary science more approachable, Science Buddies is here to explain the world to curious young minds!
PRODUCT INFO
Publisher ‏ : ‎

Crown Books for Young Readers (April 12, 2022)

Language ‏ : ‎

English

Hardcover ‏ : ‎

40 pages

ISBN-10 ‏ : ‎

0593302931

ISBN-13 ‏ : ‎

978-0593302934

Reading age ‏ : ‎

3 - 7 years

Grade level ‏ : ‎

Preschool - 2

Item Weight ‏ : ‎

1 pounds

Dimensions ‏ : ‎

10.38 x 0.4 x 10.31 inches