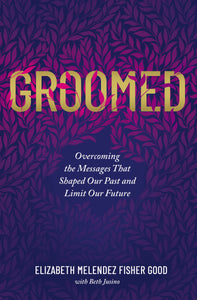 Groomed: Overcoming the Messages That Shaped Our Past and Limit Our Future by Elizabeth Melendez Fisher Good
OVERVIEW
Someone in your past sold you a false story about who you are and what you're worth. It has been holding you back for too long. Take control of your future.
A staggering one out of three women in America was a victim of sexual abuse at some point in her childhood. No matter how many years it's been, if that's your story, those scars are probably still with you. But even if that's notpart of your story, this book is for you. Women today have been groomed for a lot more than just sex.
Using her own story of abuse, family tragedy, and rebellion, Elizabeth Melendez Fisher guides readers toward an understanding that grooming is oftentimes subtle, but it's always life-altering. In Groomed Fisher incorporates the language and lessons gained over the past decade working with sex trafficking victims and her work in ministry and counseling before that. She draws out five specific ways that women have been groomed, from physical appearance to spirituality to finances, and shows how those manipulative messages have affected the way we see our worth and how they've oftentimes stifled and limited us. From there Fisher offers readers a way to overcome their past, starting with the all-important but rarely explored idea of a selah, or a time of rest and reflection, and exploring active ways to forgive and move forward to a new level of freedom.
No one has to be defined by her past. No one has to live for her groomers. It's time to take a look back at where we came from to escape the messages of our past and take control of our future.
PRODUCT INFO
Publisher ‏ : ‎

Thomas Nelson (January 14, 2020)

Language ‏ : ‎

English

Paperback ‏ : ‎

208 pages

ISBN-10 ‏ : ‎

0785229663

ISBN-13 ‏ : ‎

978-0785229667

Item Weight ‏ : ‎

5.7 ounces

Dimensions ‏ : ‎

5.5 x 0.56 x 8.4 inches