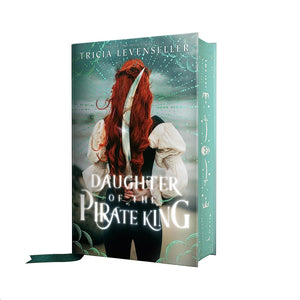 Daughter of the Pirate King by Tricia Levenseller
OVERVIEW
A gorgeous new cover and all the bells and whistles decorate this special edition, perfect for a fan's collection, of Tricia Levenseller's bestselling debut about a pirate captain who deliberately allows herself to get captured by the enemy.

There will be plenty of time for me to beat him soundly once I've gotten what I came for.

Sent on a mission to retrieve an ancient hidden map―the key to a legendary treasure trove―seventeen-year-old pirate captain Alosa deliberately allows herself to be captured by her enemies, giving her the perfect opportunity to search their ship.

More than a match for the ruthless pirate crew, Alosa has only one thing standing between her and the map: her captor, the unexpectedly clever and unfairly attractive first mate Riden. But not to worry, for Alosa has a few tricks up her sleeve, and no lone pirate can stop the Daughter of the Pirate King.

In Daughter of the Pirate King, author Tricia Levenseller blends action, adventure, romance, and a little bit of magic into a thrilling pirate tale.

This edition features metallic foil designs on the jacket and case, sprayed edges, endpaper maps, and a ribbon.
PRODUCT INFO
Publisher ‏ : ‎

Feiwel & Friends (June 27, 2023)

Language ‏ : ‎

English

Hardcover ‏ : ‎

336 pages

ISBN-10 ‏ : ‎

1250891906

ISBN-13 ‏ : ‎

978-1250891907

Reading age ‏ : ‎

13 - 18 years

Grade level ‏ : ‎

7 - 9

Item Weight ‏ : ‎

1.19 pounds

Dimensions ‏ : ‎

5.95 x 1 x 8.55 inches