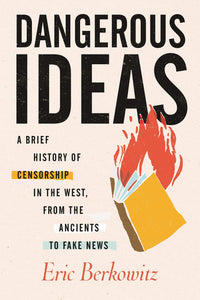 Dangerous Ideas: A Brief History of Censorship in the West, from the Ancients to Fake News by Eric Berkowitz
OVERVIEW
A fascinating examination of how restricting speech has continuously shaped our culture, and how censorship is used as a tool to prop up authorities and maintain class and gender disparities

Through compelling narrative, historian Eric Berkowitz reveals how drastically censorship has shaped our modern society. More than just a history of censorship, Dangerous Ideas illuminates the power of restricting speech; how it has defined states, ideas, and culture; and (despite how each of us would like to believe otherwise) how it is something we all participate in.

This engaging cultural history of censorship and thought suppression throughout the ages takes readers from the first Chinese emperor's wholesale elimination of books, to Henry VIII's decree of death for anyone who "imagined" his demise, and on to the attack on Charlie Hebdo and the volatile politics surrounding censorship of social media.

Highlighting the base impulses driving many famous acts of suppression, Berkowitz demonstrates the fragility of power and how every individual can act as both the suppressor and the suppressed.
PRODUCT INFO
Publisher ‏ : ‎

Beacon Press (May 3, 2022)

Language ‏ : ‎

English

Paperback ‏ : ‎

320 pages

ISBN-10 ‏ : ‎

0807055395

ISBN-13 ‏ : ‎

978-0807055397

Item Weight ‏ : ‎

15.2 ounces

Dimensions ‏ : ‎

5.97 x 0.9 x 8.98 inches