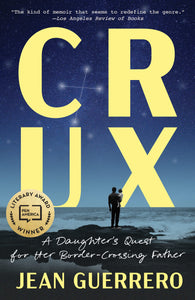 Crux: A Daughter's Quest for Her Border-Crossing Father by Jean Guerrero
OVERVIEW
A daughter's quest to understand her charismatic and troubled father, an immigrant who crosses borders both real and illusory—between sanity and madness, science and spirituality, life and death—now with a new afterword

PEN America Literary Award Winner • "The kind of memoir that seems to redefine the genre."—Los Angeles Review of Books

From renowned journalist Jean Guerrero, here is the haunting story of a daughter's mission to save her father from his demons and to save herself from destruction. Marco Antonio was raised in Mexico, then migrated to California, where he met Jean's mother, Jeannette, a Puerto Rican woman just out of med school. Marco is a self-taught genius at building things—including mythologies about himself and the hidden forces that drive us. When he goes on the run, Jean follows and embarks on an investigative journey between cultures and languages, the earthly and the mystical, truth and fiction. 

A distinctive memoir about the search for an elusive parent, Crux is both a riveting adventure story and a profoundly original exploration of the mysteries of our world, our most intimate relationships, and ourselves.
PRODUCT INFO
Publisher ‏ : ‎

One World (February 7, 2023)

Language ‏ : ‎

English

Paperback ‏ : ‎

368 pages

ISBN-10 ‏ : ‎

0399592415

ISBN-13 ‏ : ‎

978-0399592416

Item Weight ‏ : ‎

9.1 ounces

Dimensions ‏ : ‎

5.15 x 0.8 x 7.98 inches