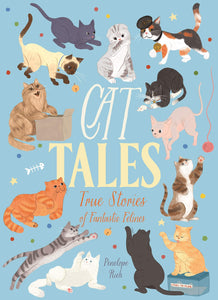 Cat Tales: True Stories of Fantastic Felines by Penelope Rich
OVERVIEW
Cats may love snoozing in sunny spots, but our furry friends are capable of so much more! In this beautifully illustrated full-color collection, you'll discover the incredible true stories of talented, brave, and clever kitties whose exploits have made them world-famous.

This heart-warming book includes over 40 cat stories, from ancient Egyptian kitties to internet sensations Grumpy Cat and Bob the Streetcat. These tales are bought to life by remarkable full-color illustrations by Isabel Muñoz.

Find out all about:
• Gracie from Reedsburg, Wisconsin, who saved her owners from a carbon monoxide leak
• Tama, the station master cat of Kinokawa, Japan
• Masha, the stray cat who rescued an abandoned baby on a freezing night in Caluga, Russia
• Stubbs, the feline mayor for Talkeetna, Alaska ...
• and so many more!

With a section on caring for cats and kittens, this is fantastic gift for animal lovers of all ages from 8 years up.
PRODUCT INFO
Publisher ‏ : ‎

Arcturus; Illustrated edition (May 15, 2021)

Language ‏ : ‎

English

Paperback ‏ : ‎

96 pages

ISBN-10 ‏ : ‎

1839406151

ISBN-13 ‏ : ‎

978-1839406157

Reading age ‏ : ‎

8 - 12 years

Grade level ‏ : ‎

3 - 4

Item Weight ‏ : ‎

9.6 ounces

Dimensions ‏ : ‎

7.1 x 0.3 x 9.8 inches