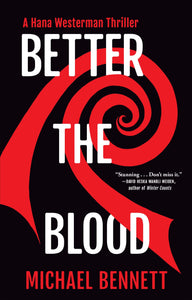 Better the Blood by Michael Bennett
OVERVIEW
An absorbing, clever debut thriller that speaks to the longstanding injustices faced by New Zealand's indigenous peoples, by an acclaimed Māori screenwriter and director
A tenacious Māori detective, Hana Westerman juggles single motherhood, endemic prejudice, and the pressures of her career in Auckland CIB. Led to a crime scene by a mysterious video, she discovers a man ritualistically hanging in a secret room and a puzzling inward-curving inscription. Delving into the investigation after a second, apparently unrelated, death, she uncovers a chilling connection to an historic crime: 160 years before, during the brutal and bloody British colonization of New Zealand, a troop of colonial soldiers unjustly executed a Māori Chief.
Hana realizes that the murders are utu—the Māori tradition of rebalancing for the crime committed eight generations ago. There were six soldiers in the British troop, and since descendants of two of the soldiers have been killed, four more potential murders remain. Hana is thus hunting New Zealand's first serial killer.
The pursuit soon becomes frighteningly personal, recalling the painful event, two decades before, when Hana, then a new cop, was part of a police team sent to end by force a land rights occupation by indigenous peoples on the same ancestral mountain where the Chief was killed, calling once more into question her loyalty to her roots. Worse still, a genealogical link to the British soldiers brings the case terrifyingly close to Hana's own family. Twisty and thought-provoking, Better the Blood is the debut of a remarkable new talent in crime fiction.
PRODUCT INFO
Publisher ‏ : ‎

Atlantic Monthly Press (January 10, 2023)

Language ‏ : ‎

English

Hardcover ‏ : ‎

336 pages

ISBN-10 ‏ : ‎

0802160603

ISBN-13 ‏ : ‎

978-0802160607

Item Weight ‏ : ‎

1.15 pounds

Dimensions ‏ : ‎

6 x 1.25 x 9 inches