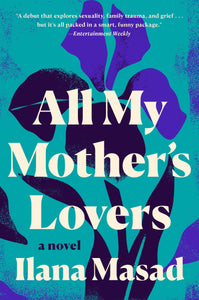 All My Mother's Lovers by Llana Masad
OVERVIEW
Unfolding over the course of nine days, and written with enormous heart, All My Mother's Lovers is a meditation on the universality and particularity of family ties, grief, and generational divides, as well as a tender and biting portrait of sex, gender, and identity.

After Maggie Krause's mother dies suddenly in a car crash, Maggie finds five sealed envelopes with her will, each addressed to a mysterious man she's never heard of. Maggie and her mother, Iris, weren't close, especially since Maggie came out, but she never thought they would run out of time to figure each other out. Now in her late twenties, Maggie is finally in something resembling a serious relationship, wondering if some of whatever shaped her parents' decades-long love story might exist after all.

Overwhelmed by her grief and frustrated with her family, Maggie decides to escape the shiva and hand-deliver her mother's letters. The ensuing road trip takes her over miles of California highways, through strangers' recollections of a second, hidden life (that seems almost impossible to reconcile with the Iris she knew), and a journey through her own fears as she navigates her new relationship. As she fills in the details of Iris's story, Maggie must confront the possibility that almost everything she knew about her mother — her marriage, her lukewarm relationship to Judaism, her disapproval of her daughter's queerness — is more meaningful than she ever allowed herself to imagine.
PRODUCT INFO
Publisher ‏ : ‎

Dutton; Reprint edition (May 25, 2021)

Language ‏ : ‎

English

Paperback ‏ : ‎

336 pages

ISBN-10 ‏ : ‎

1524745987

ISBN-13 ‏ : ‎

978-1524745981

Item Weight ‏ : ‎

10.4 ounces

Dimensions ‏ : ‎

5.48 x 0.66 x 8.19 inches